Welcome to http://www.srtsteelpipe.com
Contact Us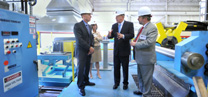 Threeway Steel Co., Ltd
E-mail: sales@srtsteelpipe.com
Address:
22nd Floor, Royal Wing Tower, Long Champ International Building, No.9 Xiangfu Road, Changsha, Hunan, China, PC: 410116
Hotonline:
+86-731-88896236
API 5L X42 Pipe
Update:
2017-05-19
View(s):
694
Keywords :API 5L steel pipe,welded pipe,ssaw steel pipe,seamless steel pipe
API 5Lx42 pipe is carbon steel line pipe used in onshore and offshore oil and gas pipelines requiring critical service, high performance and tight tolerances. This specification covers seamless and welded steel line pipe which includes plain-end, threaded-end, and belled-end pipe, as well as through-the-flow line (TFL) pipe and pipe with ends prepared for use with special couplings. There are two product specification levels (PSL I and PSL 2) for this specification which defines the different levels of standard technical requirements. This specification adhered to the International Organization for Standardization ISO 3183, which standardizes pipeline transportation systems within the materials, equipment and offshore structures for petroleum, petrochemical, and natural gas industries.
API 5l steel pipes are basically used to transport natural gas, crude oil, liquid gasses from producing field to refinery. API 5L X42 pipes are the carbon contained steel pipes which are widely used in constructions due to its structural steel quality as well good fabrication and weld ability. Buildings, infrastructures are all made from steel due to its durability and safety. Its non-combustion ability makes it harder for fire to spread and makes it a good choice in constructions of home buildings.
API 5L X42 pipes are cost effective as API 5lx42 pipe price is relatively low and affordable and can be used in the constructions and refineries industries where large quantity of steel is required. API 5L X 42 PSL 1 Pipe is environmentally friendly as well Cost-Effective. Their common uses are in refineries and plants when gasses or fluids are transported at high temperatures and pressures. These pipes are always produced by the seamless method and are intended for use in high temperature applications. Carbon steel pipes are structural in nature and can be used in fluid, gas, oil transmission. API 5L X42 pipe exhibits all features which are required in construction, refining & Oil pipeline so, API 5L X42 Pipe is widely used in construction, refining & Oil pipeline.