Welcome to http://www.srtsteelpipe.com
Contact Us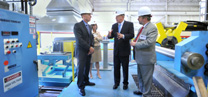 Threeway Steel Co., Ltd
E-mail: sales@srtsteelpipe.com
Address:
22nd Floor, Royal Wing Tower, Long Champ International Building, No.9 Xiangfu Road, Changsha, Hunan, China, PC: 410116
Hotonline: 0086-187-7406-7534
Phone:0086-731-8873-9521
Non-Piling Pipe
Update:
2017-03-24
View(s):
1325
Keywords :Piling Pipe,SSAW steel pipe,welded pipe,sawh steel pipe
To really understand
piling pipe
, it helps to know more about their alternative methods. Most piles are concrete or steel, although wood is also used in some cases. Concrete piles are typically solid, and driving them into the soil can cause large displacement and vibrations. In other cases, the soil is excavated so the cement can be cast. The biggest contrast that this creates with steel pipes is in the foundations that can hold them.
Non-piling pipes are typically constructed with a series of H-shaped beams. These structures are applicable in many of the same conditions, so the biggest difference between the two is in cost. Pipe piles are more commonly used in pillar supports, where H-frames see prevalence in entirely steel structures, like oil platforms.