Since bottoming in late 2015 at $350 per ton, U.S. hot-rolled coil prices are now a minimum of $450 a ton, with cold-rolled coil at least $600 a ton.
Why? And will higher prices hold?
Supply, supply, supply. That is the reason for the current price strength. Steel can be sourced from two places: domestic mills and/or imports.
Shutdowns
Back in late 2015, prices moved to below the break-even point for the highest-cost U.S. steel mills. Their response was to close down those works, while others pulled back.U.S. Steel shut its Fairfield, Ala., blast furnace and its Granite City (near St. Louis) works. AK Steel shut its Ashland, Ky., facility. U.S. crude steel utilization rates plummeted to 60% and, even with a rebound and higher prices, they are not moving much above 70% in March.
US HRC, CRC, HDG Imports (thousands of tons)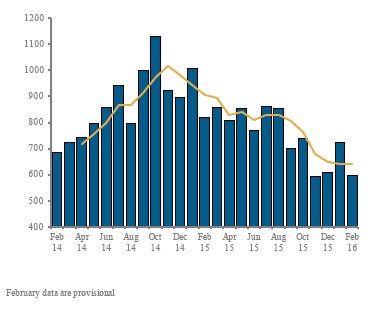 Source: Steel-Insight.
The other factor is a sharp reduction in imports. Volumes in February were a third of the peak and 40% lower than a year ago.
While the provisional anti-dumping and counterveiling duties are less than the industry had hoped, a significant proportion of global supply is now excluded from the U.S. market and shipments are unlikely to return until the duties are finalized.
The Fundamentals
Demand has not changed fundamentally. It is supply that has contracted sharply since the final quarter of 2016.
Buyers are therefore struggling to source steel and mill lead times have extended outwards with even hot-rolled coil now out to six weeks or so. For cold-rolled coil and galvanized, the lead times are now closer to 10-12 weeks and some mills are not even offering the products to non-contract customers.
U.S. Crude Steel Capacity Utilization By Percentage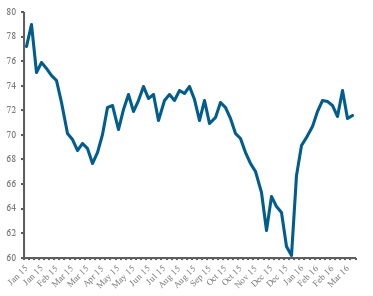 Source: American Institute of Steel Construction.
So, after three successful price hikes in three months, we expect another one shortly. We expect hot-rolled coil to go to more than $500 a ton by May.
There will be a supply response. We would expect utilization rates to creep up over the next few months and could go as high as 80% by mid-year, particularly if U.S. Steel restarts the Granite City works.
Yet, on the assumption that import duties are finalized, there is little scope for major gains in import volumes, although they will go up. As such, we would expect to see steel prices stay elevated through much of the second half of the year.