US Steel Prices Under Pressure: Higher Imports In H2?
China cut 13 million metric tons of excess crude steel capacity in the first half of the year, less than a third of its annual target.


China's vice industry minister said in July that the country will step up efforts in the second half. The minister pointed out that the focus of his organization's work in the first half was mission planning and, in the second half, it will step up the implementation and enter a new stage. The Ministry will go from allocating targets and drawing policies, to actually pushing capacity cuts.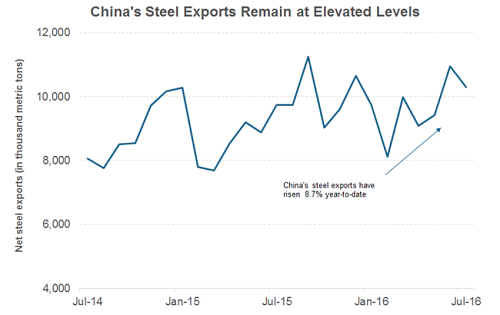 China's steel exports remain at elevated levels. Source: MarketRealist

However, China's steel exports were high again in July. China exported 10.3 million metric tons of steel, up 5.8% compared to July last year. For the first seven months of this year, China's exports have risen 8.7% year-over-year.


This year, the U.S. steel industry has managed to keep global overcapacity away from U.S. borders through trade cases. However, will the U.S. industry remain immune to the ongoing global overcapacity in the second half?


This issue has been discussed in most steel companies' Q2 2016 earnings calls. Companies like ArcelorMittal expressed concern over the rising trend in Chinese steel production while others, such as AK Steel, commented that the price gap between domestic and international steel could encourage more imports in the second half and that imports from Turkey, Vietnam and Australia are already on the rise.
US Steel Prices Under Pressure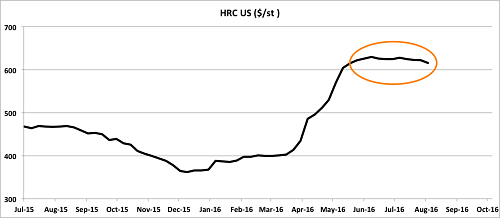 U.S. Hot-rolled coil prices are under pressure. Source: MetalMiner.
In fact, data shows data U.S. steel imports are at a low level this year, but they have risen steadily over the past few months.


Imports might not climb immediately, but we might see an uptick in the second half. This could add pressure to domestic steel prices which have already come down from their highs for the year.


After the strong rally seen in U.S. steel prices this year, prices now have some room for a downward correction, especially if China doesn't cut enough production and exports keep flooding global markets.